Most popular live casino games
You virtually take a seat at one of the many gaming tables in an online casino. With a real croupier talking to you – sometimes even in Dutch – you can enjoy well-known casino games such as live roulette, live blackjack, live baccarat and live poker.
Here are some of the most popular live casino games you can play online:
Live Roulette
The introduction of live roulette games to the casino world has introduced a new element into the games. The possibility of rigging games in traditional ways. Computers can be rigged too of course, but they leave a record that can be audited. Roulette wheels can be fixed in a different way. It's just worth checking that you're happy with the licensing and fair gaming set-up at the site you're using. And then you can have fun!
There is a certain amount of hidden competition in the casino world. Some big companies supply games and back-of-site systems to loads of casino front end. So you might find yourself playing familiar games at a new site. Most players don't mind this, and, in fact, enjoy knowing that they can expect the same quality in a new site. NetEnt for example supply a lot of live casino games, including roulette.
Live Roulette comes in two main variants, European and American, of which we suggest you pick the European game because it has a substantially lower house edge.
In live roulette, bets are made by placing chips onto a marked table. This is quite a complicated area of the game, and you should consult a good guide on odds and probability in the game of live roulette before you start wagering.
The longest odds, of course, are for picking a single number to bet on. This is where you interact with the game, by clicking or tapping on the screen to select your bet. Once you've made your bet, you sit back and watch the spin. Some live tables are not fully live. That is, the bets are shown and calculated on simulated tables.
With many, many players it wouldn't be practical for a croupier to pick-up and calculate pay-outs on all bets on a real table. It also allows the casino to keep staff costs down and have just one member of staff. NetEnt offer one of the most popular live dealer roulette online casino games, and their reputation makes theirs one that you can check out in safety.
Live Blackjack
Live Blackjack went online very naturally. The game has depth, but its fundamentals are simple. Players play against a dealer, aiming to get closer to the house than 21 without passing that total. From that simple base have been woven dozens of variants on the game. It is really worth studying which game you are playing as there are quite notable differences in house edge and return to the player depending on which table you set up at.
The most common variants include Spanish games. That use a completely different pack of cards (with no 10s), and games that offer – or don't – an insurance bet that works as a refund. When the dealer gets the unbeatable best hand; various side bets on hands; choices over what the dealer does with their hand. What the player knows about the dealer's hand, and options on when players can double their stake during the game, or split cards to play multiple hands against the dealer.
As you can see, playing a game without knowing what you're doing could be expensive. A good blackjack dealer online should help you if you have any problems. We recommend reading a good guide to the game, game odds, and payouts before you sit at a table.
The game is made for online streaming because the feel is of a one-on-one game, with the player looking on as the dealer lays out cards for themselves and the player. The simplest version of the game involves dealing out two cards to each player and two to the dealer before offering the player the chance to "hit" and take more cards, or "stand" and stick with what they have. The dealer will then try to beat the player. By following a set of rules on their behaviour that can be summarised (and grossly simplified) as "hitting hands under 17". The gambling rules are simple, with all wins except the perfect hand – an Ace and a 10-value card – delivering 1/1 pay-outs. Odds on blackjacks or naturals, as a straight-up 21 is called vary. So check them out before you play live blackjack online.
Live Baccarat
Live Baccarat is a sophisticated and stylish game with French roots that was traditionally a favourite of high rollers in casino play, often being played in discreet rooms behind curtains. No such restrictions exist online, and this exciting game is open to anyone who fancies taking on the live baccarat online challenge. It's another card game that works well in online streaming formats because it's played against a "bank". Making it a one-on-one game from the player's point of view. Now "sophisticated" might sound good. "Complicated" sounds less good. Baccarat repays a bit of study.
There are numerous variations in gameplay (whether online or off), betting conventions, side bets, etiquette, dealer behaviour, and online presentation. Evolution Gaming who produce one of the most successful and popular live casino baccarat games offer a dizzying five variations on the game: standard live baccarat, live speed baccarat, live baccarat squeeze, live baccarat controlled squeeze and live no-commission baccarat. You need to know your way around these terms to get the most out of your choice.
You can also take on a big choice of side bets. Evolution, for example, offers three. The advertised RTP for their main game is nearly 99%, but remember that's just an expression of the house edge over time. It is not what you should expect from a single session. The game at its simplest is a contest between the player and the dealer, not unlike blackjack.
Make it French
Many of the French terms have survived in their original language – which is good news for French speakers! – so rounds are often called coups and so on. The three most popular variants are Punto Banco, Chemin de Fer, and Banque. Punto banco offers the player the fewest choices in play. The contest is to get nine points. From a hand of up to three cards, with Aces valued at 1 point, tens to kings worth nothing, and number cards worth their face value. Card values are added up, and the total is the last digit of that number – so a 9 and 8 add up to 17 and are valued at 7. The player and the dealer must follow a very complex set of rules on their behaviour.
So check out some live baccarat guides before you play. Online live baccarat usually involves a scoreboard that records previous hands – almost a form of card counting – that is undoubtedly a plus for players. A good dealer, who is friendly and willing to explain things is a valuable addition to your live baccarat experience.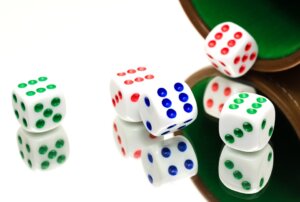 Live Craps
Dice gambling is one of the oldest ways of playing games of chance for cash. But dice tended to stay as street games – or ship games, or bar games – rather than moving into the swanky confines of the casino. The exception is craps, and in the real world, it is the noisiest and most riotous of casino games. That bit of magic is gone in the online live craps world, sadly, but it doesn't mean that the game loses its fundamental appeal and excitement. One of the joys of real craps is actually throwing the dice. In online craps, you must hand that duty over to a croupier. Most live craps tables will have two members of staff online – one throwing the dive, the other revealing their total and handling the bets.
Watch out
We don't like to say this, but for a scam site, live craps would be the easiest game to rig. Sleight of hand or rigged dice are easy to set up online. And a fast-moving pair of dice – even in HD – isn't easy to follow. Craps should only be played at reputable online casinos. Again, the game should be studied before it is played for real money.
Craps involve betting on the total of a pair of dice. In live casino craps, you play against the house. Only one player rolls the dice, with the others betting on the outcome. There are two phases to the game, and numerous bets and side bets. A craps table has more writing on it than a mobile phone contract small print but it shouldn't intimidate you. A good craps guide will get you started, and the staff at your online casino should help you out.