Where do you play your bingo? Of all the games we cover, bingo is the one that is least at home in the casino. There's no reason for that. But bingo's simplicity and accessibility have given it a down-to-earth appeal in social clubs and for charity fund-raisers. No gambling game – particularly in the UK – is more liked by women than bingo!
If that image of homely, low-key games put you off, Bingo – which has roots very like other casino gambling games – can be fast and fun. Played online, the prejudices that keep it out of the swanky casinos fall away, and if you like the game – essentially, a random numbers game – you should play it!
Read onto learn more about online bingo and see our list of some of the top bingo sites online! Not lastly, claim a free online bingo bonus!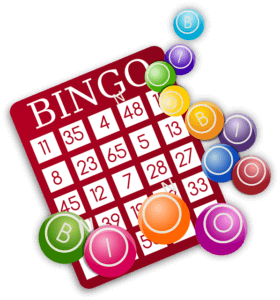 A unique game
Online bingo is unique in the online gambling world in having a very lively social scene. That's made players very demanding of the sites they play at, which they want to replicate something like the friendly chatter and banter of a real-life bingo club.
Competition in the online bingo world is just as hot as in other gambling and gaming markets. That's good news for players because it means they are in demand and can move from site to site. It means that sites have to offer good games and good bingo bonuses to attract them.
Bingo sites are famous for the extra promotions, ongoing games, and tournaments they offer. It's also common practice for bingo sites to offer side games – usually slots and instants – in their chat rooms. And we know our players love slots!
Although there's a lot of competition, some of it is not what it seems. Several large companies own the biggest game systems and operate large networks of sites that differ little behind their branding and theming. That's usually no problem for players, who will get a decent experience wherever they play, though it may be an issue if you try to claim a new player at a new site only to find you already have an account with that provider.
There are different versions of bingo, chiefly an American and British game, but the fundamentals are very simple, and there's a reason why bingo is a popular game at children's parties – it's that simple.
Bingo is played for real money though, so players should follow the same routines around site safety, personal safety, and safe gambling when they're playing bingo. It's also possible to win very big prizes in bingo – usually in networked games that are sometimes played live, in concert with thousands of players in real-life bingo venues – running into the millions, so treat bingo with respect!
5 tips to choose a bingo site online
Bingo is one of the simplest games in gambling. It's so easy to set up and run that it's become a staple attraction for fundraising by community organisations. Its slightly different history has given bingo sites a particular character: they're generally more female-friendly and often have a more social aspect than other sites.
So how do you pick a top online bingo site?
1 – The big names
Like most of the gambling industry, the world of online bingo sites is one of many brands and fewer actual owners. Bingo casino sites are operated by a relatively small number of companies who add new sites all the time. It's a good idea to do some research and find out which of the big names you like and stick to their sites.
2 – Safety check time!
We always bring up safety and security and we don't apologies for it. Bingo might have a less dangerous image than some other games but it's still an online transaction and it's still a licensed activity. Make sure you play at safe licensed bingo sites online only.
3 – A world of choice
Bingo is unlike other gambling games in a lot of ways, but like most of them, it comes in a number of flavours. American, British, 90-ball, 70-ball, pattern bingo and more. Look for bingo rooms that give you a good choice of the bingo games you like.
4 – A bit on the side
The social side of bingo is usually fulfilled by chat rooms that you can talk in during games. They also usually offer side games. Have a look at these and look for bingo casino sites that offer a good choice – usually, they are tied to the site operator. Bingo-related slots are a whole genre in their own right and some offer some really big progressive jackpots in relatively simple games.
5 – Rewards!
The jackpots in many bingo games are set by the number of players chipping in to the pot and are relatively small in size. But the big life-changing prizes are out there too. Major jackpots are a great way for online bingo sites to draw in new members, so keep an eye on bingo news sites and social media for major prizes. The odds are always long, but you have to be in it to win it.
Should you claim an online bingo bonus?
Bingo sites, like most of the online gambling world, make frequent use of bonuses to win new customers. The commonest sort of online bingo bonus is a welcome bonus.
Welcome bonuses usually offer a multiple of your first deposit as a bonus. Most of the time you'll see a 200% offer, for example, that will translate as €20 in bonus funds when you deposit €10.
Your experience of the commercial world will immediately wonder, "What's the catch?"
There are quite a few, and you should think about them honestly when you decide whether or not to claim a free online bingo bonus.
The most common restriction is a wagering requirement, sometimes called "playthrough".
This restriction sets a multiple of either your first deposit (of your bonus, of your first deposit and your bonus combined) that you must deposit and play with before you can start withdrawing money won with the bonus funds, or sometimes before you can withdraw any money.
These figures are often quite high: you might be asked to deposit 20x your first balance. That would mean that you would need to spend €200 of your own money after making a €10 deposit with a 100% welcome bonus.
That's a big commitment to a site in both time and money. And, we need to be honest with ourselves, that is the purpose of a welcome bonus – to commit you to spend a lot of time at a site.
We think that the best way to consider a welcome bonus is as an opportunity to take a look at a site to see if you like it. It is very unlikely that you will turn that bingo bonus into big winnings in the long run.
We've only covered the playthrough restriction here and there are usually more restrictions than that. So if you know that you like a bingo site and want to get on with winning money there then it is sometimes worthwhile doing the unusual thing and walking away from a welcome bonus.
The History of Bingo
The Beginnings
No-one will ever know who made the first bingo calls. The bingo game is so simple that it's impossible not to imagine that someone somewhere back in the medieval period, or even earlier, came up with some sort of variation on this game.
The documented history is very long for a gambling game in any case.
It is said to be Italian and to date back as far back as 1530. It was called Il Gioco del Lotto d'Italia originally, and the lotto has survived as an alternative name well beyond its early adoption by French aristocrats. What French aristocrats were doing on Monday, the rest of Europe was doing – with due deference to the slowness of communication in the 18th century – a couple of months later. The French had started to include elements of the game we'd recognise today: the cards (of 27 numbers) with tokens to mark off randomly selected numbers.
Soon Brits were looking at tickets full of numbers desperate to hear the figure they needed to complete the card. Soon, the Tombola – a wire cage with numbered balls inside that could be spun – was delivering the random numbers. In Germany, the game became an educational tool of a sort, with random numbers used as the basis for all sorts of classroom sums and exercises.
At this stage, centuries before the online bingo bonus was ever heard of, the game wasn't even called bingo!
That was to come – probably, and this is all in dispute – when the game finally made it to America in the 20th century and started to be seriously commercialised and standardised.
That was probably the achievement of one man, Hugh J Ward, who, starting out in Pittsburgh and the surrounding area, started to offer bingo at carnivals – still without calling it bingo. However, he published a rule book in 1933.
When Edwin Lowe, a toy salesman, saw the game in action in a Georgia carnival in 1929, he picked up on the excitement of the players. They were shouting "beano!" for a win, but Lowe took the game with him to New York and started manufacturing the equipment to play it. Legend – and legends are usually untrue – has it that a friend of his got the shout wrong one day, and we were stuck with bingo!
Towards Online Bingo
History made bingo a hit.
The Great Depression of the 1930s and the Second World War made low-cost, simple, communal games a great hit.
Soldiers could play bingo in a dugout on a Pacific island. A few householders could quickly set up a game in their church hall and have a ready-to-go charity fundraiser.
The charity game was commercialised in bingo halls. In the UK in particular, bingo is an archaeological layer in our architecture. Music-halls became cinemas, and as television put pressure on that market they became bingo halls – largely in the 1960s – and as the bingo market declined, as it has done – they have become shops, restaurants, churches or entertainment venues.
A lot of mass-market bingo was played through newspapers. Tabloids could print cards and numbers and offer potentially massive prizes, showing the power of networked play to generate big sums of money that attract millions of players.
Bingo is very easy to computerise. While some gambling games need to generate a completely random number sequence, which requires a certain amount of computing power, a bingo engine only need generate a number up to 50 and allow a player to mark a card.
Even before games became interactive there were bingo games on computers. And bingo was one of the first gambling games to transition onto the Internet.
In 1996, a game called Bingo Zone was launched, allowing free play in return for ads targeted at players based on questionnaire information (do you spot Facebook's whole business model there?). In 1998 a new site – Bingo Blitz – came along.
A legal loophole that classified bingo as a game of pure chance, in the UK, helped the game make up ground on the internet that it was losing in real-life venues.
The game, although relatively simple, came to be a sophisticated online experience: players could have their numbers marked by machine and would have their best cards selected and highlighted for them.
Sites could offer a whole variety of bingo games and tailor the experience to the player in a number of ways.
They could also host a huge number of different games, ranked by type.
How to Play Bingo
Bingo is a simple random number game.
Players bet by buying cards for a fixed amount. Cards are marked with numbers – either 75 or 90. This is staking. You cannot raise your bet other than by buying more cards. Prices are set by the house, and will usually be reflected in the prize.
Random numbers are generated in real life by picking a ball from a tank – this is done in all sorts of exciting ways.
The number is called and all players who have that number on their card should mark it off. In the UK there was a set of rhyming names for every number, and these passed into common usage. If you ever meet an English person who tells you that they'll meet you at "legs eleven" o' clock then you might have found a bingo fan.
The player who first fills in specific patterns on the card shouts it out and they win a prize. Some games are played for several prizes, leading up to the biggest award for filling in the whole card.
UK Bingo vs American Bingo
Like many other gambling games, the big divide in the bingo world is between an American version and one from Europe, in this case, British bingo.
The main difference between these games is the number of balls with which they are played, and you may see them described in this way as 90-ball bingo (the British version), or 75-ball bingo (the American version).
For reasons we'll see you might also see American games described as shapes bingo.
Both games are very simple to play and with auto-play, you don't even need to think, to be honest!
UK Bingo uses 90 balls. Both games are played with cards and random number generators.
Let's look at 90-ball bingo first.
UK Bingo
The cards for this game are divided into 27 squares into three rows of nine columns of three. Each column, from left to right, contains numbers from a run of 10: 1 – 9, 10 – 19, 20 – 29 and so on. There are only 15 numbers on each card, so there are four blank spaces on each row.
You can buy tickets in strips of six. Each strip contains every possible number in the game once each.
UK games, usually just called 90-ball games, are generally played for three prizes. The first player to fill up a horizontal line wins the first prize. Then there is a two-line prize. Finally, the largest prize is played for filling the whole card – traditionally celebrated with a cry of "house" or "housey housey!" in UK bingo calls.
There is no guarantee that prizes will be awarded to a single player. When the game was called and marked manually, the first to call out would take the prize – bringing an element of skill to marking, especially if you used multiple cards – but with auto-daubing, these are always tied. Shared prizes are split equally between players.
Some online bingo sites offer one-to-go prizes. These are usually very small amounts given to players who were one away from winning a prize.
American Bingo
American games are played with 75 numbers.
The card is a five-by-five square grid, usually with the letters B, I, N, G, O marking the tops of the five columns. The central square is always left blank. Numbers are printed in the columns left to right to cover 15-ball intervals, so 1 – 15, 16 – 30 and so on.
Numbers are generated and called in the same way as in the 90-ball game, but the aim of the player is different.
Players usually compete to mark out shapes. They can be simple geometric ones – crosses, arrows and the like – or sometimes letters. Really, anything you can mark out in the equivalent of a 75-pixel image is fair game. There can also be a full-house or cover-all game.
The B, I, N, G, O letters may sometimes be used to award a prize for the first player to spell out the name of the game with a letter in each column.
Numbers aren't distributed to any pattern across cards in 75-ball bingo, so buying sets of cards won't give you a full set of numbers, and you can't plan your marking off of numbers by the columns.
How to Choose your Online Bingo Game
In real-life games, 90-ball is considered a more challenging game, simply because of the mechanics of playing. It's usually faster, and there's a little more to think about.
In the online bingo world, both games are essentially identical in skill level.
So we say, play them both, and see which you enjoy. Mix and match and enjoy yourself.
How to Play Online Bingo
Part of the attraction of online bingo games – apart from huge online bingo bonuses – is that they are super simple to play.
All sites differ and you should always make sure that you know what the routines and rules of the site you are playing at are.
This is a fairly typical example.
The site will have a game lobby. This will list games. It will always tell you how much it costs to buy tickets or cards, and it should tell you the prize of the next game. It will usually tell you how many players there are and if there is a live caller in the room or a manned chat room. It will mention any progressive jackpot or special games.
It will also tell you when the next game is. Because this game is played by many players playing on a set series of events, you can't just start a game on your own, so you might have to wait for a new sequence of numbers to be called.
Once you've picked your game you will usually see a screen with several sections.
The three biggest will be the game window, where your tickets are shown and the numbers ticked off (usually automatically). There should also be a numbers window where the numbers that are called are marked off. This window usually consists of a board showing all the possible numbers, which are then filled with the balls as they drop.
The part of the online bingo screen that you won't see in real life is a chat window. Chat is a big part of online bingo and reflects its roots as a social game in real life. You don't have to get involved in online bingo chat if you don't want to, but it can add a new dimension to your game.
Naturally, mobile bingo uses a screen that is much smaller and more stripped down. The game itself works brilliantly on mobiles, but it can lose its chat element, which a lot of players value.
There is also likely to be a chance to play side games, often offered above the chat window. These are usually slot games, but you will also find instant win games or casino games. Side games in bingo are often cut-down versions of popular titles. The game-play will be exactly the same.
Bingo slots, for this reason, tend towards the simpler end of the market and are often quite traditionally themed. This probably reflects a slightly older audience for bingo and the limits of what a player wants to see in a game that isn't the main attraction.
Because there are breaks in bingo, chat and side games are highly valued.
Bingo Odds & Bingo Payouts
Like all straight gambling games, bingo is a random game. A good site should guarantee this and if it is licenced – and you shouldn't play at a site that isn't – then this will be guaranteed.
The odds of bingo are hard to calculate because it is a multi-player game. The only really sensible way to consider odds as a player is like this:
At the start of each game, before you buy a ticket, you have as much chance as any other player of winning.
Buying more tickets will increase your chances of winning. But it will cost you more – double your stake, half the odds against winning.
Bingo pay-outs are also complex and vary from game to game. We repeat our advice: always read the rules of the particular site you are playing at, and if you have any questions check the help functions or speak to a customer service agent.
Some bingo games have fixed prizes. Others take a proportion of the ticket money and add that to the prize fund. This means that the more players there are, the bigger the prizes are – and the less likely you are to win them, because bingo is a competition against other players, and the more of them there are, the more likely they are to "beat" you.
You should be able to find a theoretical return to player recorded somewhere on the site. Normally, the RTP on a bingo game will be above 70%. This just means that the game will – in the very long term – return around 70% of the money gambled on it to players. Players as a collective over the whole life of the game, not you as an individual player – you might win many times the money you stake, you might never win anything!
Online Bingo Bonuses
Online gambling is booming at the moment. Sites are appearing all the time and there is massive competition between them – hence the enormous amount of gambling advertising at the moment.
Bingo is no exception.
The best way to bring in customers is to give themselves something for free!
See, you're interested already!
However, the best way to go bankrupt is to give away stuff for free. So nobody really does that.
Now you're disappointed. Sorry.
The picture is a little more complicated than that, and you just need to be informed of how it works to navigate it to your benefit.
The truth of the matter is that a free bingo bonus is designed to get you to stay and spend more money than the site gives you. In gambling "spending" is another way of saying "losing".
So when you sign up for an online bingo bonus you will usually be expected to deposit some money in order to earn your free bingo bonus (this is why they are usually expressed as percentages – 100% first deposit bonus, means that if you put in £10, the site will give you another £10 to play with).
Now, if you could simply withdraw this money the site would soon go out of business. And, even if you spent the money on bingo games – or slots or whatever – you would win at least some of it back (maybe win multiples of it) and the site would be out of pocket.
So you will be expected to not just spend the bonus money, but to spend a multiple of it of your own money before you can withdraw winnings won with that money.
This is usually called the play-through requirement, and the higher it is, the worse it is for you. There may be other restrictions on top of this, including what games you can play to work off your play-through requirement.
This requirement – for obvious economic reasons – will be even bigger when you receive a no-deposit bingo bonus.
These are the most popular bonuses in the gambling world because they are free money.
Except, of course, they aren't!
So when you are offered a no deposit bingo bonus, by all means, cash it in, but please read the small print very carefully. You can't lose if you choose not to, and if you use the free bingo bonus to check out a site, but if you decide to stay and play then you will have to pay it back and you may end up paying back much more than you were given.
We love bingo, and we think you will too, so check it out at your favourite bingo room or bingo casino site today!