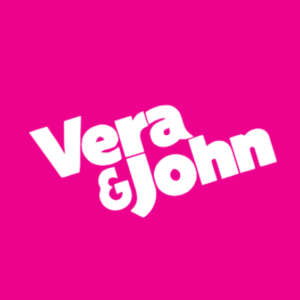 Bonus
€100
Grab your bonus
---
Bonus agreements
Vera & John Casino Review
Vera & John might sound like the perfect name for a singing duo, but it really is an online casino. And a good one at that. The Vera John Casino is known for being a reliable gambling platform that offers many extras. There are tournaments in which you can take on other gamblers, there is an extensive loyalty program and you profit from both a 100% and a 200% welcome bonus. Not to mention the vera John free spins that you will receive at your first deposit. Are you not convinced straight away? At Vera & John Casino, most casino games are free and can be tried out with no strings attached. As such, you can take your time testing whether the casino offers what you want.  
Let's have a closer look in this Vera & John casino review.
5 Reasons Why Vera & John Casino is a great online casino
What makes a great casino? Everyone has their own view on that, and not many of you will have jumped straight to, "it's named after an elderly couple". Or perhaps you did and we're completely out of touch! We couldn't find an explanation of why the site – which was launched by a group of industry veterans – is named as it is. (OK, we're guessing it is named this way to provide a unique name that stands out, is memorable, and easy to find on Google without running into 700 other sites with "casino" in their name.)
The site is very well established, having been founded in 2011, and is now owned by the Dumarca Gaming Ltd group. Since introducing a winnings guarantee to players in 2013 they've paid out over €1 million in cash top-ups alone. But should you sit down with Vera and John? Here are five reasons why we reckon you should.
1 – It's different!
Most casino sites look similar. They're branded around adventure, sci-fi, tech, and sports. Not so Vera and John. Not only is the name unique, but the site looks very different too, with pastel blues and pinks. We reckon this look is designed to make the site appear friendlier to women. No reason why anyone shouldn't play here, but the design is reminiscent of a bingo site. No matter what the colours are, we're always in favour of clean, usable looks – which Vera and John Casino has completely covered – wherever we find them.
2 – It has hundreds of games!
Whatever a site looks like, what players are most interested in is the meat. And the meat for online video slots fans and online casino players is games! Well, Vera and John Casino are very keen to help you out there. Their front page focuses on the most popular games, and you can see that they're very high quality. When we visited we saw the following Vera John slots, Extra Chilli, Holmes and the Stolen Stones, and Bonanza Megaways at the top of the charts. There are loads more, and a leading slot audit site lists nearly 600 games at Vera and John.
3 – You could win a life-changing sum at Vera and John
When you play a slot you want to win, and if you want to win, you probably want to win big. Good news then if you like big prizes because Vera and John has some of the biggest. We took a look at just some of their top titles in the jackpot category on our visit and counted prizes on Mega Moolah Isis, Mega Fortune, and Hall of Gods totalling nearly £12.5 million. That's a great set of spins to win!
4 – They love their customers and they let them know
Most sites offer some sort of reward to regular customers, but Vera and John go well beyond that with a full-featured loyalty programme that rewards you just for turning up! That's right, as soon as you create an account on Vera and John you've earned a reward, in the shape of coins that you can collect and then spend at the casino shop.
Even logging in to the site gives you coins. Playing games does too. So does rating games to help your fellow players find the titles that'll be the best to play. There's a real feeling of community about this site and we love the warm, fuzzy glow it gives us! Some activities you will only be rewarded once, others allow you to come back to the well up to hourly, daily, and monthly limits. This loyalty programme isn't just rewarding, it's engaging too, and it makes Vera & John Casino a much stronger site.
5 – The Wins Guarantee at Vera & John Casino
No site can guarantee that you'll win. Forget that, that's dream world. The mathematics behind slot and casino and live casino games suggest you should win quite a lot of the time but that the site will come out on top in the end. That's how they make a profit, from their house edge. So the wins guarantee at Vera & John Casino isn't a guarantee that any player will win on any particular visit, but it's still a fantastic deal, and one you should take a look at if you're weighing up where to spend your online slots money.
The win guarantee – which has paid out more than £1 million – guarantees the minimum top daily and monthly guarantees. Win the biggest prize from a single spin of the day, and – if it's less than £5,000 then Vera and John chip in to make it that amount. For monthly wins, it's even better, with the casino pitching in to make up the top wins of the month to £50,000. That's a game that's rigged in the player's favour, and one you've got to be a part of! We love Vera and John. It's licensed across Europe and offers superb service to its members. This could be a site not just to visit but to sit down and pour a long drink with. Invite Vera and John Casino into your home today.
Get to know Vera & John Casino
The originally Swedish Vera & John is a creation of Jörgen Nordlund and Dan Andersson. These gentlemen launched verajohn.com in 2010, although this was certainly not their first experience with the gambling world. Nordlund and Andersson are also the men behind Maria Bingo, that they sold to Unibet for more than 700 million kroner (around 70 million euros) back in 2007. With Vera & John Casino, they are embarking on a new adventure. Initially, the casino focused on the Scandinavian market. They did, however, choose to locate their headquarters on Malta. Obviously with an official license of the Malta Gaming Authority.
From its start, Nordlund and Andersson were very serious about this project. Because what is the number one element for a casino to attract players? Right, a proper game selection. In its first year, they featured games of Microgaming, Betsoft and NYX Gaming. Not even a year later, games were added from that other giant: NetEnt. If you take a look at the long list of game developers today, you know that Vera & John worked hard to create a very complete casino. This is an absolute necessity.
After all, the company has the goal of becoming the most fun and inspiring casino in the world. Nordlund and Andersson will no longer contribute to this goal. Since 2015, the Canadian Intertain Group Ltd is the new owner, which led to Vera & John Casino becoming attractive for players outside of Scandinavia as well. 
Vera & John Online Casino has a busy yet user-friendly website
When visiting the website of Vera & John Casino, you are instantly transported to a completely different world. The bright blue and pink accents draw your attention right away. Add to this the striking banners with the various bonuses and names of lucky winners, and you just know that you have arrived at an online casino.
The website might appear somewhat crowded and flashy. Yet once you look through this front, you will find that Vera & John Casino is, in fact, a very decent casino. The site works fast and everything is logical. For your favourite games, you can use the search function, so that you do not have to browse through all the pages.
Are you unsure of what game this will be? Through the various categories, a list with game developers or the favourites of Vera & John, you will automatically find the perfect casino game.
Vera & John Casino Games
More than 900 Vera John slots to choose from
The website of Vera & John is filled with some 900 (!) different slot machines and jackpot slots. And all of them boast a different design and different theme. Dive into the world of gold miners with the game Gold Rush. Or imagine yourself in ancient Egypt with Ra's Legend. All the known (and also some lesser-known) slot machines are present.
Now, you can let yourself be led by the theme or the famous name of the game. Although sometimes it is more fun to let yourself be surprised by a game that you usually would not pick. Especially for this purpose, Vera & John has created a page with game reviews. Because if you get to choose between 900 Vera John slots, it would be a waste to keep on falling back on Starburst, Mega Moolah, Arabian Nights or one of the other world-famous games. 
Enter Casino Cosmopolitan of Casino Paris
Vera & John is a casino with all the trimmings. This means that the game selection does not end at the slot machines. There are more than 60 versions of the famous table games. Go for American Roulette, Monopoly Roulette, Punto Banco Pro or Caribbean Poker with a low limit.
Naturally, you can enter the live casino right away as well. Vera & John has two: Casino Cosmopolitan and Casino Paris. The first casino is filled with the live games of NetEnt, whereas Casino Paris works with the software of Evolution Gaming. This led to two markedly different live casinos with not only a different mood but also different games. So, twice the choice.
Winners and tournaments
Winning money is obviously an essential part of online gambling. You probably have fantasized about what you would do if you would win a huge sum of money. Stories of other winners can be very inspiring. Vera & John compiled this kind of stories so that you can read how a player won more than €100.000 on the Golden Temple slot machine.
Another was the lucky winner of the jackpot slot Hall of Gods, who was able to transfer almost €74.000 to his account. After reading the stories of the players, you instantly feel excited to try it out yourself. Yet not everyone wins this kind of astronomical amounts. Vera & John also keeps an eye out for the smaller winners. The one won €100 and the other €20. The amount actually does not matter, it is about being put in the spotlights.
You obviously would love to be listed as one of these winners. For those who are really competitive, it might go one step further. Vera & John Casino organizes daily tournaments that anyone can participate in.
What to think about a tournament in which the top 100 get to divide a prize pool of €5.000? You have to work hard to reach that top 100 in the various rounds. You do not only play against the casino, but also against other gamblers. Who knows, you just might succeed in beating everyone.
Vera John Bonus – Go for the 200% and 100% welcome bonus
Before you are ready to play tournaments and win money, you obviously have to create a players account first. Are you ready for the first deposit right away? Then Vera & John Casino is happy to welcome you with a special casino bonus. This Vera John bonus consists of two parts. The first deposit provides you with 10 free daily spins for the next 10 days. Besides, there is a 200% deposit bonus with a maximum for €60. You only have to deposit €30 in your account in order to be eligible for the complete bonus.
Please note that you have to bet the Vera John bonus amount 40 times before you can actually call the welcome bonus yours. This is actually a very common demand in the online casino world. At Vera & John, the bonuses do not stop after that first deposit.
The second Vera John bonus also guarantees a welcome bonus, this time a 100% bonus of maximum €50. Once again, there will be 10 free daily spins for 10 days waiting for you. We can safely say that your gambling adventure is off to a great start at Vera & John Casino.
Nice extras at Vera & John for loyal players
A nice welcome bonus might convince new players to sign up to the casino. Still, loyal players deserve to be spoiled just as much. This can be done through bonus promotions or a loyalty program. At Vera & John, you profit from both. The Vera John bonus promotions are meant for anyone who gambles on the platform of Vera & John. There are continuous new promotions, often related to special moments in the year. Chinese New Year, the start of a new month, the Oscar Ceremony or the start of the summer: for all these moments, Vera & John arranges new promotions, often in the form of extra prize money. In one go, you might just find yourself hundreds (or even more) euros richer.
For the bonuses, it matters very little whether you play games daily or only a few times per month. If you are really active on the website, you will certainly be rewarded with nice extras. For this, a separate loyalty program was set up. Almost anything that you do on the website will result in coins.
Do you create a players account? 5 coins will be coming your way. A first deposit guarantees 50 coins, and the approval of your account is worth 200 coins. So, before you are actually ready to start playing, you will have collected quite a few.
After that rookie stage, there is much more to earn. You log in on the website (10 coins), deposit €50 in order to add to your credits (100 coins), might invite a friend to sign up as well (another 10 coins) and then you are ready to start gambling (1 coin per game). All of the coins that you collect, can be spent in the Vera & John Shop. This shop is filled with bonuses, free spins and other interesting casino prizes. By playing a lot, you also keep on reaching higher levels. This results in extra benefits as well. Vera & John Casino is doing very well in rewarding active members. So grab your laptop or smartphone and play another game.
Vera John Mobile – Gamble always and everywhere via your smartphone
Considering there are so many extras to earn, it is important that the casino is accessible anywhere and anytime. Luckily, Vera John Mobile Casino lets you switch to the mobile casino at any moment. This gives you the chance of playing on your favourite Vera John slot machine or try your luck in a game of roulette, even when you are on the train or in the waiting room of the dentist.
The Vera John Mobile Casino developed an app that can be downloaded from their website to your Android or Apple device. Alternatively, there is always the Vera John mobile site for you to fall back on. You will find an extensive selection of the best casino games on your mobile or tablet.
Amongst the more than 750 games are big names such as Starburst and Book of Dead. Of course, you can also participate in the many tournaments or take a seat in the live casino.
On your smartphone or tablet, you will experience the same user-friendliness as on the laptop or computer. Do you still encounter problems? With one push of the button, you can instantly get in touch with the customer service. 
Customer service
Vera & John Online Casino set up a customer service that you can go to with all of your gambling questions. Remarkable is the very extensive FAQ-page. With this, Vera & John really manages to trump the other casinos. Does the FAQ-page not provide the solution that you hoped for? Then you can always get in touch via telephone (+44 203 608 0424), email ([email protected]) or live chat. Although customer service is opened 7 days per week, you cannot reach them 24 hours per day. The telephone service starts at 8 o'clock in the morning and the live chat at 9 o'clock. After midnight, there are no more contact possibilities.
If you enjoy gambling in the nightly hours, it is a shame that there will be no direct support. However, if you send an email, you will receive a reply within 12 hours.
Deposit money at Vera & John and get ready for the profits!
Have you made up your mind, having concluded that Vera & John is your online casino? Then prepare your details and make the first deposit. You can deposit money from €10 via credit card, Skrill, Neteller, Paysafecard, EcoPayz, Trustly and bank transfer.
Vera & John Casino also claims to be the first licensed online casino where players could spend their Bitcoins.
Unfortunately, this option has already disappeared. The payouts are usually fast and swift. Before you know it, the money will be in your account and you will be ready to enjoy the money that you made with gambling.
Details
| | |
| --- | --- |
| Website | www.verajohn.com |
| License | MGA (Malta) |
| Software | Microgaming, Play'nGo, Nextgeneration, Netententertainment, Betsoft, PLaingaming, Yggdrasil, Leander Games, Williams Interactive enEvolution Gaming. |
| Deposit Methods | Delta, Maestro, MasterCard, Visa, Neteller, Skrill, Paysafe Card, Diners Club International, Visa Electron, |
| Withdrawal Methods | Delta, Maestro, MasterCard, Neteller, Paysafe Card, Visa Electron, Diners, Visa, Skrill |
To cut a long story short
About

Vera & John

Vera & John is an online casino founded in 2010 by two ambitious Swedish men with a lot of experience in the online casino world. Vera & John has a unique name, appearance and website. The welcome bonus also stands out with a doubling of 200% with a first deposit. See for yourself if you like Vera & John's online casino with it's wide range of casino games.
Want to experience
Vera & John?!
Go to site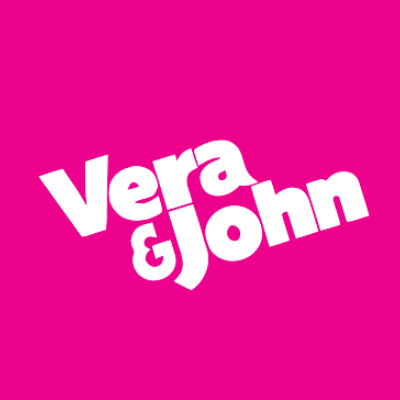 Honest Reviews
From the

players
---
There are no reviews given by the casino players.