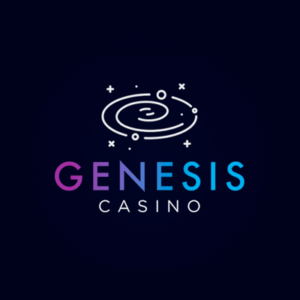 Bonus
Grab your bonus
---
Bonus agreements
Genesis Casino Review
And in the beginning, God created… that's what Genesis is all about, at least in the Bible I remember from my long-ago school days. I don't recall slots, instant wins, or casinos coming up in those lessons, but this new Genesis Casino doesn't seem too bothered by that mismatch. However, having checked they don't seem to be linked with the long-standing and legendary British band that was once home to Phil Collins either. So, the creation of the universe seems to be. The look of the site confirms this. Galaxies, stars, space, and mystical looking geometry sit in the background, with – perhaps a little controversially – two hands reaching out to each other like God to Adam on the Sistine Chapel ceiling. Instead of the spark of life passing between them though, one holds a gambling chip! In front of that spacey backstop are your options.
Let's have a closer look in this Genesis Casino review!
Let's take a look into Genesis Casino
A bonus at Genesis Casino is trailed as the headline (bonuses change all the time, so always check you have the most up-to-date information before you make a decision on bonuses) on a set of sliders that take you through a local (UK and Ireland) promotion, the biggest jackpot prize (Mega Moolah), an exclusive version of blackjack, a weekly Monday spin promotion, and an ad for a top title, in this case, the NetEnt favourite, Gonzo's Quest.
Under that, the latest big winners scroll through, with more trailing of big jackpots – Mega Moolah again. Under that, the games are trailed. When we looked at the site "Live Casino" at the top, the most popular games underneath, video slots under that, table games under that, Then you'll see all the small print that you see on any site, including licensing, payment partners, and addresses.
The menus are set at the top of the screen, with a three-line menu icon offering shortcuts to "Games" the "welcome offer", "promotions", "payment methods", "VIP", and the "About US" page. A separate shortcut menu takes you to the various categories of games. You can search the site and you can access help from the front page too. We'll address all of this in more detail later, but to us, the site looks very safe, legit and high quality. Well done Genesis.
Run by Genesis Global Limited
The company is Genesis Global Limited, and as far as we can discern it is not linked to the game's developer, Genesis Group, who are behind many titles, including Temple of Luxor, Wu Xing, Machine Gun Unicorn, Robyn, and SuperWilds. The site was set up in June 2018, with a Maltese base (does anyone in Malta not work in gaming?). The site is off-limits to Australian, Belgian, French, Italian, Spanish and American players, though may add more licensing in time, of course.
You can play in English, Swedish, Finnish, Norwegian, and German, using British pounds, Euros, dollars, Canadian dollars, Swedish and Norwegian Kroner.
At the latest count from a trusted industry listing site, there are 770 games, from 30 game designers. The site itself says it has more than 1,300 games. It also makes a big fuss about the site's security. Should you create an account with this new Genesis though?
Let's have a look:
Genesis Casino Pros
A good looking site with all the right signs of a quality experience
A great selection of games, with lots of top titles and big jackpots, and all bases covered
Excellent help services
Chat rooms for players
Genesis Casino Cons
Some limits on countries
We found a couple of broken links
What makes Genesis Casino one of the best EU online casinos?
Genesis is a big thing to name your casino after. I mean, this is the literal creation of the universe according to the Christian bible!
You don't need to be a believer to see that this is a site offering a high-quality experience to players. But there's plenty of choice in this market, and you only really need to play here if Genesis Casino is one of the best EU online casinos.
We think it is.
And here's why!
1 – Genesis Casino is a legal and licensed site
We are one of the most boring casino review sites in the world! Why? Because we never – and will never – shut up about licensing. This is because we care about your safety! Never play at an unlicensed site!
No such worries at Genesis. They have a licence from the UK Gambling Commission, the Malta Gaming Authority and the authorities in Curacao. That should see you covered, but once you know that the site is OK where you live and for your age, you can steam on in with confidence.
2 – Genesis Casino has more than 1,000 games
It's common that we write about hundreds of games, but topping the 1,000 mark does make a site stand out. That's the figure for Genesis at the audit site we use.
That means a huge choice across all genres and styles of the slot, casino games, and live dealer game. And it means that you can find games from all the top providers here, including the likes of Rich Wilde games, Fire Joker, Gonzo's Quest, Reel King and one of the world's favourite slots, Starburst.
3 – Genesis Casino looks and works brilliantly
Nuts and bolts issues out of the way, perhaps we can spare a moment for the finer things in life?
Why not!
Genesis Casino delivers in looks and functionality. The theming is deep and meaningful and carried on throughout the site, and the games are arranged – there are a lot of them remember – in a number of ways that make finding them easy.
4 – Genesis Casino Has a Big Welcome Bonus
Fancy a 100% boost on your first deposit? Of course, you do! In that case, you can go to Genesis Casino because that's the starting point for the Genesis Casino welcome offer.
Did we mention that there are 300 free spins on one of the world's top games, Starburst, too?
How's that sound?
These offers change by location and in time, so go and take a look now to see the current offer.
5 – Genesis Casino has a Great Set of Live Casino Games
Live casino is the current cutting edge of the casino business, and Genesis are sharp and ready in this respect.
Click on lobbies for roulette or blackjack, the two most popular casino games globally, to see a great selection of those games, or dive deeper for selections of exclusive games and loads of variations on your favourites.
You'll also find a great slate of international favourites like European Roulette and baccarat in the live casino rooms.
Is Genesis Casino Safe?
How does one judge whether a casino is safe? The first thing to do is to take a look around at the site. Sadly, we live in a world where there are scam sites. Some of them are sophisticated, but – as with most real-world property crime – the vast majority of criminals are opportunistic and not overly bothered about putting in a load of effort.
So a site that looks good and functions well is more likely to be legitimate. Scam sites often focus on one game or one offer. A legitimate site will have no problem in allowing you to click around the whole site to take a look around. Building all that takes time and effort, so a scammer might not bother and leave you staring at a splash screen until you sign up and hand over your payment details.
The way money is collected is also a good way to spot a scam site. At the moment we advise our readers not to get involved in sites that ONLY accept cryptocurrencies. Lots of legitimate sites accept bitcoin and the like, but if that's the only option that's suspicious and we recommend that you shop elsewhere.
Safe payment methods
Genesis has a great set of payment partners that include most of the options that you would want to see. They don't have PayPal yet, but perhaps that will come in time. (PayPal, who dropped out of the industry for several years, are the pickiest of payment providers, and seeing their name on a site is a great sign of quality.)
Genesis looks and feels completely legitimate. It radiates quality. It is not a scam site. Don't neglect your safety precautions even with safe sites though. Make sure you're in a secure browser, that you are at the right URL at all times, that you have antivirus protection on, and take password security seriously.
The most important question, though is probably what we'll address next:
Is Genesis Casino Licensed?
To cut this short. Yes. We don't review unlicensed casinos and we recommend you stay miles away from them (kilometres if you prefer). Never play at a casino that isn't licensed. Never play at a casino that isn't licensed for the jurisdiction you are in when you are playing. And never play at a casino you are not legally entitled to play at.
Sorry to lecture to you, but this stuff is serious. If you break the rules then you will have no come back if something goes wrong, and if a site finds out – or even (if you check the small print) has a fairly reasonable belief that you are breaking the rules – then you might well lose everything you've deposited as well as your winnings. So, don't lie about your age, "borrow" a credit card, spoof your location with a VPN or any other trick to get around the age and identity verification. While this stuff can be boring and time-consuming, it is in the interests of every legitimate gambling business and gambling consumer that the industry is able to run fairly and transparently.
To return to our point. Yes, Genesis Casino is licensed. First by the Malta Gaming Authority. Genesis Global Limited have two licences with this regulator. One is the licence MGA/B2C/314/2015 for providing gaming services. The second part of the licence is also for gaming services, with a note that ties the licence to "Net Ent Malta Limited", NetEnt is one of the world's biggest game and gaming services companies.
Genesis Global also run a number of other gaming sites that are approved by this licence: pelaa.com, casinojoy.com, genesiscasino.com, sloty.com, vegashero.com, spinit.com, casinocruise.com, spela.com, vegashero.com, sloty.com, and spinit.com.
More sites connected
The Malta Gaming Authority is a well-regarded regulator. Malta is – for various reasons, which include if we're being honest, its tax and legal status – a hugely popular jurisdiction for gaming. The regulator has a good record at handling disputes between players and the companies they use. For many years, such overseas licences were accepted generally, but more and more countries are now demanding their own licences.
At Genesis Casino, you'll find a UK Gambling Commission licence. UK players must see this before they play at the site. But it's also good news for players everywhere because the UK Gambling Commission is considered the best in the world.
The licence is number 45235 for Genesis Global Limited in Malta, which is licensed to run remote casino sites. There are no sanctions or other black marks against the licence, and Genesis' other sites are listed (casinocruise.com, casinojoy.com, genesiscasino.com, sloty.com, spinit.com, and vegashero.com. Inactive sites are listed too: casinogods.com and spela.com).
Lotteriinspektionen, the Swedish gaming authority, also licenses Genesis Global Limited. We've also seen reliable reports that Genesis is licensed by the Government of Curacao, but we have been unable to find this licence ourselves. Curacao licences a lot of casino sites, but it is not considered one of the best regulators.
Is Genesis Casino Secure and Honest?
The site, as it should, boasts that it uses an SSL connection to transmit data to and from players. Genesis also says its methods are PCI compliant, which is a standard used in the Payment Card Industry to ensure the safety of the transfer of money. The gambling industry also plays a role in site safety. It carries an 18+ badge to show that it respects legal age limits. There is a link to BeGambleAware, a British organisation to help problem gamblers. Genesis is also signed up with the Responsible Gaming Foundation, an organisation based in Malta, and uniting gambling businesses in providing responsible gambling services.
Genesis Casino also has a big collection of information on "Responsible Gaming". There's a lot of good information there, including plenty of personal advice we would recommend all of our players take a look at. The site offers short- and long-term self-exclusion for players too. If you play safely you will enjoy your gambling. If you don't you could end up making things much worse for yourself. Be aware of how you're feeling and how you're spending and keep a check on yourself when you're gambling.
What countries can I play Genesis Casino in?
You can play at Genesis Casino from most countries in Europe, but the site is not licensed to operate in all of the continents, so bad luck if you like the look of the site and you live in Belgium, Denmark, France, Hungary, Italy, Portugal, Romania, Spain, Turkey and Ukraine. Australian, American, Israeli and Iranian gamblers will also have to look elsewhere.
Genesis Casino Welcome Bonus
Remember that welcome bonuses are subject to change at short notice and may be different in different markets. We report on the offers we see – from the UK in January 2019 – and it is likely that you will see a similar offer wherever you are, but it's not guaranteed.
At the moment, you cannot receive the bonus in: Lithuania, Belarus, Latvia, Czech Republic, Bulgaria, Poland, Bosnia-Herzegovina, Croatia, Greece, Republic of Moldova, Georgia, Slovenia, Belgium and Ukraine in Europe.
€1000 + 300 Free Spins
The welcome bonus at Genesis Casino is for a €1,000 bonus and 300 free spins. If that sounds too good to be true, you're getting the idea! Of course, everything Genesis Casino says here is legal and honest, it's just that there's a lot more detail to add to that offer. The first thing to say is that this is not a one-off welcome bonus, but a series of bonuses that require you to deposit four times.
The first deposit will earn you a bonus of 100% of your deposit up to a maximum of €100, with 300 free spins on Starburst – the worldwide smash game from NetEnt. The second bonus is 50% of your deposit up to a maximum of €300, unlocked with a bonus code. The third and fourth bonuses are both 25% bonuses to a maximum of $300 with a bonus code. So, to earn that maximum $1,000 bonus you would need to deposit, €100 + €300 + €1,200 + €1,200, which is €2,800. That's quite a commitment.
Wagering requirements
Then we get to the small print. You must wager 40 times the welcome bonus before you can withdraw that sum or any winnings you make by gambling with it. So, if you deposit the maximum you'll need to bet with €112,000. Your free spins come in sets of 30, which are credited to your account every day for the first 10 days at the site. They must be used within 24-hours of being given to you, and you cannot withdraw more than $100 won with these spins. Skrill and Neteller players cannot cash in this bonus. That's two of the most popular e-wallets out of the window. Bonuses vanish from your account after 14 days if you haven't met the wagering requirements.
Wagering requirements are paid off at different rates depending on which games you play. There are maximum bets of €5 (slots) and €30 (casino games), and games are ranked, so that, for example, table games contribute only 10% of the money you spend on them towards your wagering requirement. Blackjack only 5%. Slot games have different weightings – most are 100% – and some slot games are completely excluded from the wagering requirement sums.
Let's put that in real terms again: with just the first €10 deposit you would earn a bonus €10. If you're a blackjack player you will need to spend €10 x 40 x 20 of €8,000 to withdraw any money you win with that bonus.
There are also a number of practices that seem perfectly reasonable ways of choosing how to spend the bonus that is ruled out of order by Genesis and could see you forfeiting your cash.
Genesis Casino Promotions
The welcome bonus is designed to get you through the door. If you look at it in marketing terms you'll see that it's also designed to get you used to play regularly at the site. Fair enough, but if Genesis wants to turn visitors into long-term customers they'll need to offer ongoing promotions. Too often we see sites that offer amazing welcome bonuses, but all too obviously don't give a fig about the customers they've already signed up.
How does Genesis do?
Sadly, the "promotions" tab on the home page menu only takes us to a page describing the welcome bonus! The home page has a slider that does better though. Promotions tend to be regionalised, and we were shown a deal that is exclusive to UK and Ireland players, offering cash prizes for playing NetEnt games. Next up is a Monday free spins offer. The other promotions just offer us the chance to play games. It's OK, but it's not exactly mind-blowing.
Genesis Casino Games and Software
The software provider here seems to be the company itself, but there is definitely a strong link to NetEnt. The licensing includes a reference to the giant company, and the promotions show a heavy bias towards NetEnt games. That's no bad thing. NetEnt are one of the best biggest and best casino companies in the world. Their games are hugely popular because they're good, and they provide excellent quality casino software.
Genesis Slots
Games aren't limited to NetEnt though, and there is a good selection of developers offering up their slots here. We found Genesis slots games from Microgaming, Evolution Gaming, Nyx Interactive, Play'n GO, and Quickspin.
The most popular Genesis slots when we visited were Rich Wilde and the Book of Dead, Starburst, Immortal Romance, Vikings Go Berserk, and Twin Spin. New titles – Bonanza, Raging Rex, Extra Chilli, Danger High Voltage, and Who Wants to be a Millionaire – were also lining up for players.
Table Games and Live Casino
Separate roulette and blackjack lobbies are the way into those games, and there is also a full list of top casino games, including: Casino Hold 'Em, Baccarat, and Poker. The emphasis is on those first two games though, and there's a massive variety of titles available to try out.
If you like to play on stream with a live dealer then you'll see NetEnt games dominating the selection, which take in a big choice of roulette styles (European, immersive, high speed), Blackjack (pro, common draw, Grand VIP), Hold 'em, Baccarat, and more. You'll find German and Swedish, language versions of some table games.
Banking Methods
You'll need some cash in your account if you want to buy chips for those tables, and you're not short of options when it comes to filling up your account. All deposit methods are trailed as instant and free.
Genesis carries logos on its front page for Visa, MasterCard, Maestro, NETELLER, Skrill, Trustly, Entercash, SOFORT BANKING, Giropay, Paysafecard, Boku, Euteller, ecoPayz, Entropay, Interac, iDebit, INSTABEBIT, and EasyEFT. Not all of these methods are then listed in the site's terms and conditions, but this may be a regional issue.
Minimum transactions for most are €10, and maximums for all are €5,000, with the exception of Paysafecard, which has a transaction maximum of €300. Withdrawal limits are €22,000 a month and €5,500 a week. You can withdraw to credit or debit cards in from one to three working days. To e-wallets instantly. Bank transfers take three to five days, or they're instant online. You cannot withdraw to vouchers or to mobile payment systems.
Customer Support
Help is something we all hope never to need, but you're a fool if you don't check out that it is there as you sign up at a casino site.
The signs are good at Genesis. First of all, we should commend the site on providing a lot of good quality information in the form of their guides, terms and conditions and FAQs. The FAQs cover most of what you will need to know.
If you do have further questions then click on the "contact" tab to find EU contact details of, 00 356 27780065 for telephone help, and [email protected], [email protected] (to supply your ID documents), and [email protected]. There is also a chat help option.
The Final Verdict
This is a quality casino that is definitely worth your attention and we recommend you at least take a look at what it has to offer. Do so realistically though. The headline welcome offer is not very easy to redeem in full, and you might even consider turning it down if you just want to get on with playing some games without getting entangled in a long commitment to the site. You'll find plenty of the best games on the market to choose from, with a very strong live casino offering.
Genesis Casino need to do a little bit of work on some of their design and site navigation to make the user experience one of the best, but as a safe, secure, trustworthy destination with tons of gaming choice, this is one of the best new sites on the market. Check it out now.
Details
| | |
| --- | --- |
| Website | www.genesiscasino.com |
| License | Malta Gaming Authority, UK Gambling Commission |
| Software | Microgaming, NetEnt, Evolution Gaming, Play'n GO, Quickspin, Nyx Interactive |
| Deposit Methods | Bank Wire Transfer, Maestro, Master Card, Visa, Visa Electron, Debit Card, GiroPay, Paysafe Card, Trustly, Zimpler |
| Withdrawal Methods | Bank Wire Transfer, Neteller, Skrill, Paysafe Card, Entropay, Sofort, EcoPayz |
To cut a long story short
About

Genesis Casino

Genesis Casino existed since mid 2017 and offers more than 770 games, from 30 game designers. The online casino got EU licenses from Malta Gaming Authority and the UK Gambling Commission. New players at Genesis Casino receive an attractive welcome bonus and many free spins. This certainly makes it interesting to take a look and play at Genesis Casino!
Want to experience
Genesis Casino?!
PLAY NOW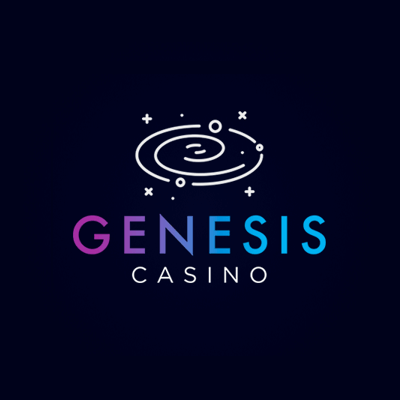 Honest Reviews
From the

players
---
There are no reviews given by the casino players.